We are authorized Onkyo audio repair service center in Minneapolis St Paul MN. When you are in need of a vintage audio repair or have HDMI problems with a A/V Receiver we can help you. Amplifiers, AV receivers, stereo receivers, tuners, DVD players or subwoofers we can fix it! Providing Onkyo audio repair and vintage stereo repair service in Minnesota and surrounding states since 1977
Authorized Onkyo Audio Repair Service Center
Minnesota Vintage Onkyo Audio Repair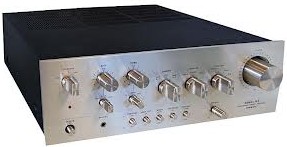 The A-5 is a well designed and well built mass-production amplifier sound very good when it is in good working order. Give us a call. We can fix it!
45 watts per channel into 8Ω (stereo)
Frequency response: 15Hz to 40 kHz
Total harmonic distortion: 0.08%
Input sensitivity: 2.5mV (MM), 150mV (line)
Signal to noise ratio: 75dB (MM), 90dB (line)
Output: 150mV (line)
Speaker load impedance: 4Ω to 16Ω
Minneapolis Onkyo Audio  Repair shop
Beneath the A-5VL is slim and elegant exterior lies a surprising amount of amplification muscle.
Price from $399.00 to $450.00 Onkyo managed to incorporate the functionality of a pre- and power amp into such a slender integrated package. The key is the A-5VL is extremely energy-efficient design. Because it produces much less heat than a typical amplifier, the A-5VL requires only a small heat sink. This leaves ample space for a range of precision-crafted audiophile-grade parts, such as specially audio-tuned capacitors and thick, low-impedance copper bus plates. The A-5VL employs Onkyo exclusive VLSC technology to ensure a smooth, pulse noise-free signal during conversion from digital to analog. You will enjoy precise and faithful reproduction of any audio source, whether it is a CD, a tuner, or a turntable. As the A-5VL is also compatible with Onkyo''s optional RI (remote interactive) Docks for the iPod®, you also have the convenience of controlling playback of your iPod via the amplifiers remote controller.
Minnesota Onkyo  Stereo Repair Shop  
What Is New in 2014
As a self-contained space-saving 3D-sound system, the LS-T10 features a six-channel digital amplifier to power the six-driver array, with four full-range drivers on the front, a speaker on each side, and an active subwoofer on the underside. AuraSphere digital signal processing manages output levels and equalization to create an all-enveloping 3D soundfield, complete with selectable Movie, Music, and News sound modes to optimize playback of various types of content. The unit also doubles as a powerful home hi-fi system, with Bluetooth wireless streaming technology and a USB port for flash memory storage devices loaded with MP3s. Best of all, installation and operation is easy: just plug in a single cable, use your TV's remote, sit back & enjoy the LS-T10′s superior audio performance. You will be impressed.
Onkyo Audio Repair MN, WI, IA, SD, ND
Minneapolis/St Paul Onkyo audio repair shop. Amplifiers, AV receivers, tuners, DVD players and subwoofers.  Providing Onkyo audio repair to Twin Cities since 1977
We guarantee our COD parts and labor for 90 days. Warranties apply to the original service only, physical damage, shorted outputs in Stereo, abuse, power surge, lightning, are not covered. Original manufacturer warranty applies.